My sister is a tomboy, and I've always wondered how she captures almost every man's attention without trying! After many years, I discovered her style secret was to dress effortlessly.
A girl who likes tomboy fashion usually packs her wardrobe with V-necks, flannel, button-down shirts, hoodies, snapbacks, and boyfriend jeans. She never fails to complete her tomboy ensemble with high-top sneakers. From streetwear to high fashion, tomboy style has made waves in the fashion industry.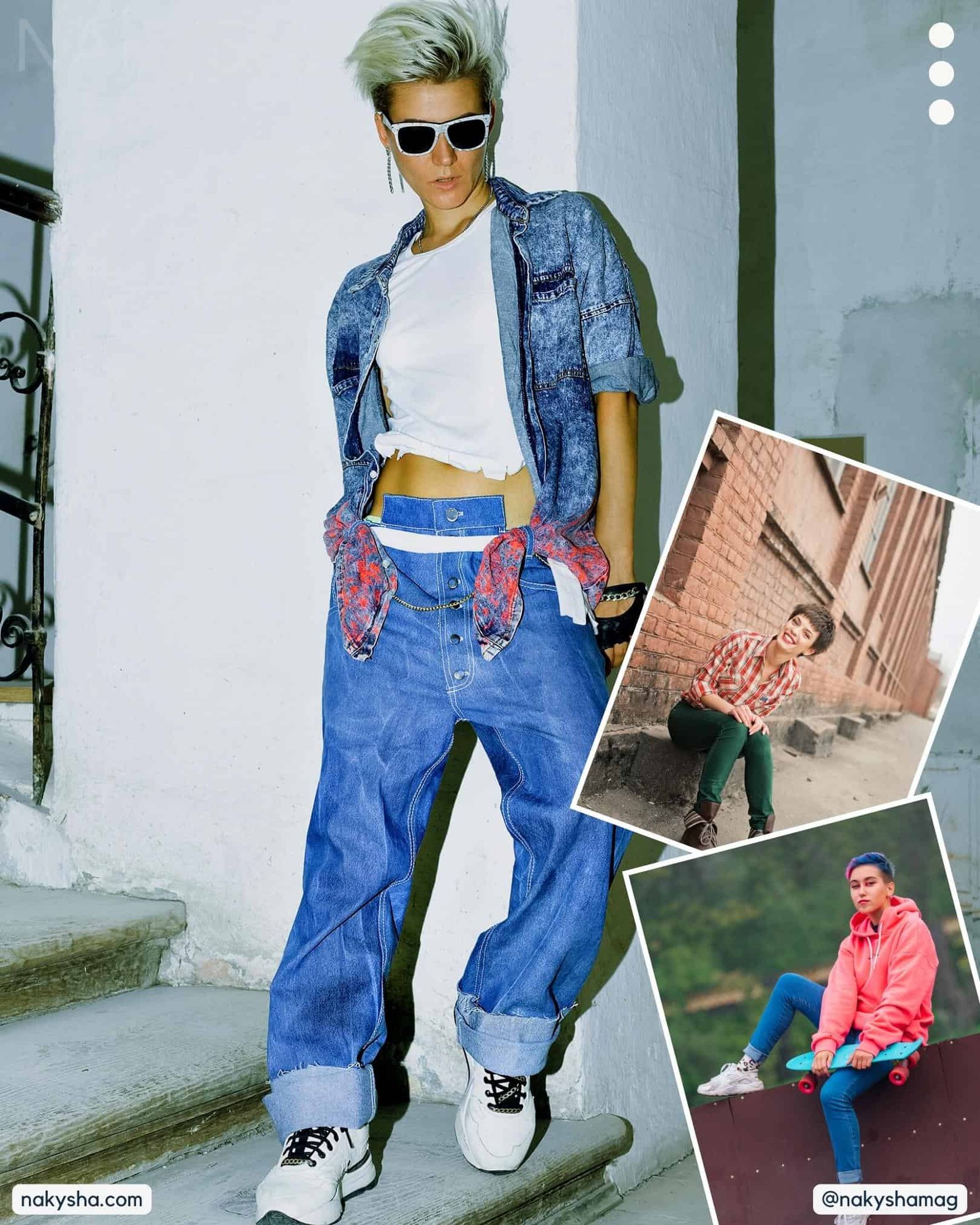 For those unfamiliar with tomboy fashion, figuring out what it's all about and how to incorporate it into your wardrobe can be daunting. In this article, we'll provide an overview of tomboy fashion and everything you need to know about creating stylish looks that reflect your style.
What is Tomboy Fashion?
The term "tomboy" first appeared in the mid-16th century. It was a name for rude and boisterous male children. However, by the 1950s, the word had evolved into its current feminine meaning, "a wild, romping girl, who acts like a spirited boy."
Tomboy fashion was pioneered by Coco Chanel, who liberated western women from corsets and extremely confining skirts. Still, it emerged in the 1930s Jazz Age with women who adopted what Vogue called a "trim and boyish" look.
Tomboy fashion is all about being comfortable in your clothing. Pair baggy khakis with a women's fitted tee and a baseball cap for a classic tomboy look. You can also wear loose flannel shirts with designs like plaid. Tomboy clothing, particularly flannels, and cardigans, is a must-have.
The Meaning of Tomboy Fashion
The Tomboy fashion style refers to a dressing style typically associated with masculine or boyish clothing choices. Tomboy style typically features loose-fitting, comfortable clothes such as t-shirts, jeans, sneakers, and jackets. This style is often characterized by a preference for practicality, comfort, and simplicity over more feminine or glamorous clothing.
Tomboy fashion can also include elements of streetwear and sportswear, such as hoodies, sweatpants, and athletic sneakers. Accessories such as caps and backpacks are also commonly associated with this style. Tomboy fashion is often associated with a casual, relaxed, and sporty vibe and is popular among those who value comfort and functionality over fashion trends.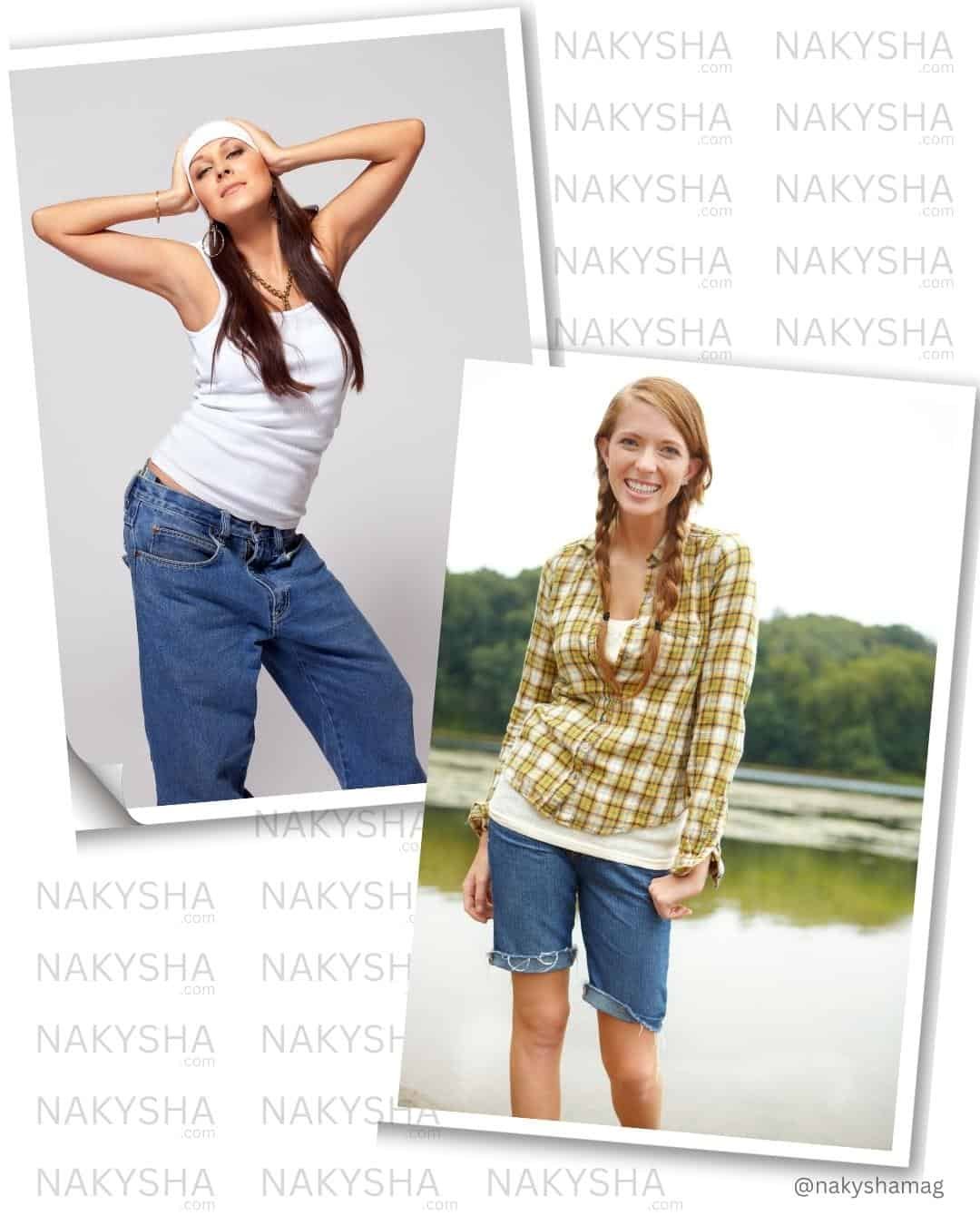 Types of Tomboy Fashion
The Tomboy fashion style is versatile and can be tailored to fit an individual's preferences and personality. There are different types of Tomboy fashion styles, including:
Classic Tomboy: This style features simple, classic pieces such as denim jeans, white t-shirts, and sneakers.
Sporty Tomboy: This style is focused on athletic wear, such as joggers, sweatpants, and hoodies.
Grunge Tomboy: This style incorporates grungy elements like flannel shirts, combat boots, and distressed denim.
Chic Tomboy: This style blends feminine and masculine elements, such as pairing a blazer with jeans and sneakers.
Streetwear Tomboy: This style is characterized by oversized streetwear pieces such as hoodies, joggers, and graphic tees.
Preppy Tomboy: This style features classic preppy pieces like blazers, button-down shirts, and loafers, but with a tomboy twist.
Skater Tomboy: This style features skate-inspired pieces such as oversized t-shirts, beanies, and Vans sneakers.
What is the Origin of Tomboy Fashion?
The tomboy fashion style has been around for decades and is here to stay. Tomboys have always had a unique style combining traditional feminine and traditionally masculine elements.
From the days of Marlene Dietrich in the 1930s to today's modern stars like Miley Cyrus and Kristen Stewart, the tomboy look has been one that holds an enduring appeal.
Tomboy style is all about comfort and ease but also making a statement. It typically consists of loose-fitting clothes such as jeans, t-shirts, shorts, or overalls paired with sneakers or other shoes. The main focus is on functionality as opposed to formality or glamour.
Tomboy-style fashion designers are emerging as a powerful force in fashion. These designers create clothing that is stylish and comfortable while still being able to express a sense of individual identity.
Tomboy style is often defined as an expression of gender fluidity in clothing design, with pieces that blur traditional lines between masculine and feminine clothing styles.
The Sources of Inspiration
The Tomboy fashion style draws inspiration from various sources, including:
Men's Fashion: Tomboy fashion takes inspiration from men's clothing styles and incorporates them into women's fashion. This can include wearing oversized shirts, suits, and blazers.
Sports: The Tomboy style is also influenced by sports culture, emphasizing comfort, functionality, and practicality. This can include wearing athletic wear, sneakers, and baseball caps.
Subcultures: Tomboy fashion has been influenced by various subcultures, such as punk, grunge, and skate culture, often featuring gender-neutral and practical clothing.
Pop Culture: Tomboy fashion has also been popularized through pop culture icons like Rihanna, who often incorporates masculine elements into her outfits.
Gender Expression: Tomboy fashion is often associated with gender expression, as individuals who do not identify with traditional feminine clothing may find comfort in wearing more masculine clothing.
Comfort: Finally, the Tomboy style is often inspired by the desire for comfort and practicality, with individuals opting for clothing that allows them to move freely and comfortably throughout their day.
Popular Tomboy Fashion Designers
Several high-profile tomboy-style fashion designers have emerged in recent years, bringing their unique perspective to mainstream fashion.
Stella McCartney: The British designer is known for her chic, androgynous designs that blend masculine and feminine elements.
Alexander Wang: The American designer is known for his sporty, minimalist designs that often feature oversized, unisex silhouettes.
Phoebe Philo: The former creative director of Céline is known for her streamlined, gender-neutral designs that focus on comfort and functionality.
Yohji Yamamoto: The Japanese designer is known for his avant-garde, unisex designs that often feature oversized, deconstructed silhouettes.
Rad Hourani: The Canadian designer is known for his unisex, androgynous designs that blur the line between masculine and feminine clothing.
Haider Ackermann: The Colombian-born designer is known for his luxurious, tailored designs that often feature androgynous silhouettes.
These designers and brands have significantly impacted Tomboy fashion and continue to inspire individuals who embrace the style.
Why is Tomboy Style Still Popular?
Tomboy-style fashion has experienced a dynamic evolution over the years. Initially, it was described as an androgynous look that combined traditionally masculine elements with feminine details.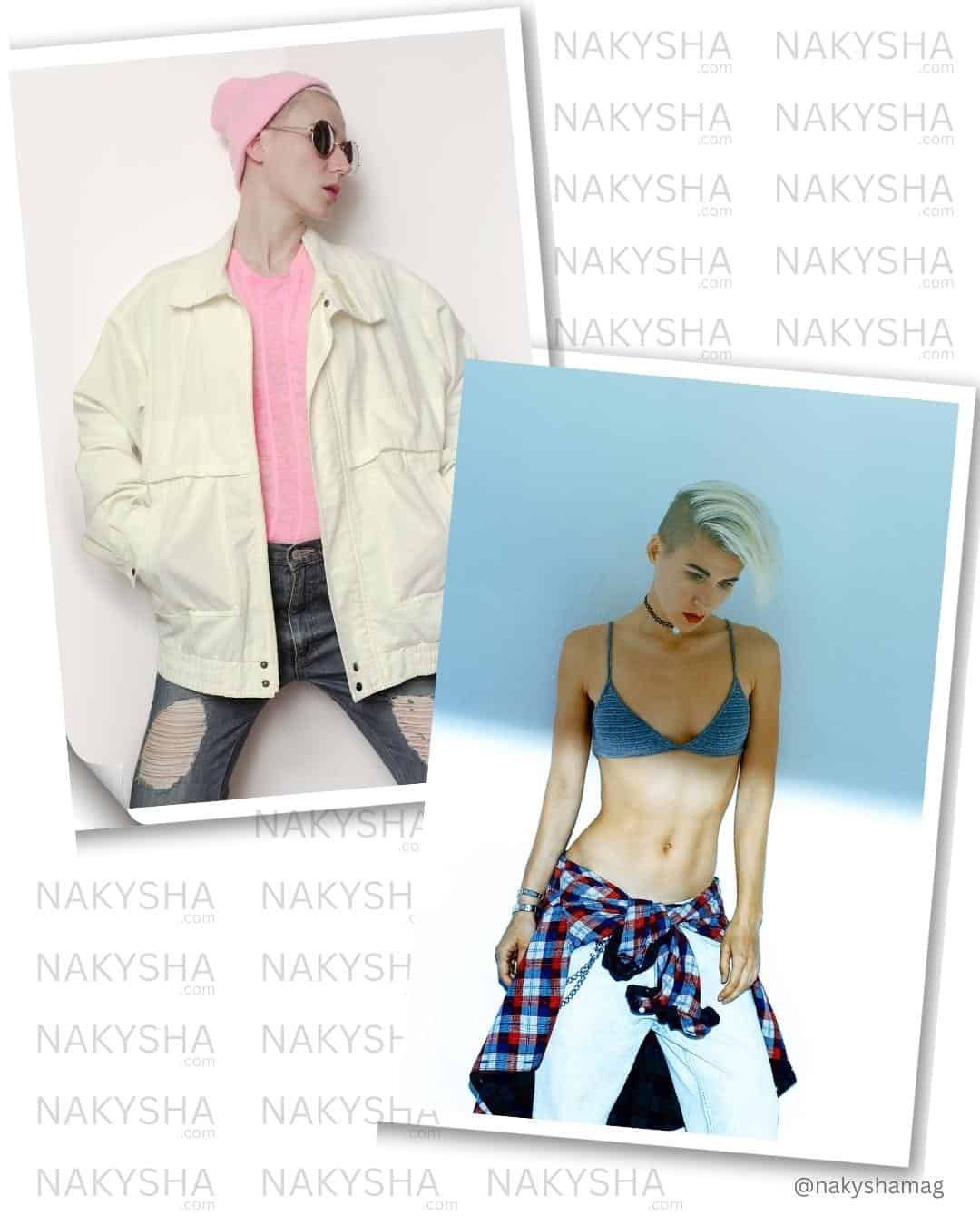 Tomboy style is typically characterized by sportswear-inspired pieces such as jeans and hoodies, often accessorized with sneakers or low boots and baseball caps. In recent years, the tomboy style has become more mainstream, partly due to the rise of gender fluidity in the fashion world.
With modern iterations featuring high-end streetwear pieces such as distressed denim jackets, graphic tees, and oversized blazers, tomboy style has been embraced by celebrities like Rihanna and Emma Watson, who have all put their spin on the trend.
The Evolution of Tomboy Fashion
The Tomboy fashion style has evolved over the years, reflecting changes in social norms and cultural attitudes toward gender expression. Here are some key milestones in the evolution of Tomboy fashion:
Early 20th century: The Tomboy style emerged in the early 20th century, as women began participating in sports and outdoor activities traditionally associated with men. This led to a shift towards practical, functional clothing such as trousers, shirts, and jackets.
The 1920s-1930s: The flapper era of the 1920s saw a rise in more feminine fashion styles, but the Tomboy style persisted among women who continued to participate in sports and outdoor activities.
The 1940s-1950s: The Tomboy style became more popular in the 1940s and 1950s as women began to take on more roles traditionally reserved for men during wartime. This led to a rise in more practical, masculine clothing such as jeans, shirts, and boots.
The 1960s-1970s: The countercultural movements of the 1960s and 1970s challenged traditional gender roles, leading to a rise in gender-neutral and unisex clothing styles. This included a resurgence of the Tomboy style, with women opting for more masculine clothing such as suits, leather jackets, and denim.
The 1980s-1990s: The 1980s and 1990s saw a return to more feminine fashion styles, but the Tomboy style persisted among women who embraced more masculine clothing. This led to a rise in grunge and punk styles, often featuring gender-neutral androgynous clothing.
2000s-Present: The Tomboy style has continued evolving in the 21st century, with designers and brands creating gender-neutral androgynous clothing lines. The rise of streetwear and athleisure has also led to a resurgence of sporty, practical clothing styles that are popular among those who embrace the Tomboy fashion style.
The evolution of Tomboy fashion reflects changing attitudes towards gender expression, with style persisting and evolving as women continue to challenge traditional gender roles and embrace more masculine clothing.
What are the Characteristics of Tomboy Fashion?
Fashion doesn't have to be girly and frilly; tomboy fashion is here to prove it. This dress style is loved by those who appreciate a more masculine look that blends both genders.
Tomboy fashion is characterized by simple, easy-to-wear pieces with a streamlined silhouette that don't hug the body too tightly. It usually consists of menswear-inspired pieces, like oversized blazers, cargo pants, t-shirts, and plaid shirts.
Comfort is key when it comes to tomboy-style fashion, and you want comfortable yet fashionable clothes to make a statement. Androgynous looks are also popular in this genre of dress; think wide-leg trousers paired with tailored jackets or loafers with midi skirts for an understated level of sophistication.
Alternatively, pair your outfit with chunky combat boots or ankle boots for a grunge-inspired style. They'll give any look an instant boost of attitude without compromising comfort.
The Colors of Tomboy Fashion
The Tomboy fashion style is characterized by various colors, depending on individual preferences and personality types. However, some colors are commonly associated with the Tomboy fashion style. Here are some of the most common colors of Tomboy fashion:
Neutral colors: Neutral colors such as black, white, gray, and beige are commonly associated with the Tomboy fashion style, as they create a versatile, understated look that is easy to style.
Dark colors: Dark colors such as navy blue, forest green, and burgundy are also commonly associated with Tomboy fashion, as they create a sophisticated, edgy look well-suited to the style.
Earth tones: Earth tones such as brown, khaki, and olive green are also popular in Tomboy fashion, as they create a natural, organic look that is well-suited to the practical, outdoor-oriented nature of the style.
Bold colors: While Tomboy fashion is often associated with neutral and dark colors, some individuals opt for bolder, brighter colors such as red, yellow, and blue to add a pop of color to their outfits and express their sense of style.
Ultimately, the colors of Tomboy fashion are diverse and varied, with individuals opting for a range of colors depending on their style and preferences.
How to Dress Tomboy Style?
Dressing in the Tomboy fashion style involves embracing clothing typically associated with masculinity while maintaining a sense of individual style and femininity. Here are some tips for dressing in the Tomboy fashion style:
Start with the basics: Begin by building a foundation of essential pieces that are comfortable, practical, and versatile. This might include jeans, t-shirts, sneakers, and a leather or denim jacket.
Experiment with gender-neutral clothing: Look for clothing that blurs the lines between masculine and feminine, such as button-up shirts, blazers, and trousers. Choose clothing that fits well and complements your body type.
Accessorize wisely: Accessories can add a feminine touch to an otherwise masculine outfit. Try pairing a baseball cap with a bold lip color or a statement necklace with a t-shirt and jeans.
Play with layering: Layering is key to the Tomboy fashion style. Experiment with different combinations of shirts, jackets, and outerwear to create a unique look.
Invest in quality footwear: Footwear is essential to the Tomboy fashion style. Look for comfortable and practical options such as sneakers, boots, and loafers worn with various outfits.
Add your personal touch: Don't be afraid to experiment and add your touch to your Tomboy fashion outfits. This might include adding patches or pins to your jacket or accessorizing with jewelry or scarves.
Dressing in the Tomboy fashion style involves embracing comfortable, practical clothing that blurs the lines between masculine and feminine. Experiment with different types and find what works best for you and your style.
Tomboy Fashion Outfits
Tomboy fashion style outfits are typically characterized by a masculine or androgynous appearance that blurs the lines between traditional masculine and feminine clothing. Here are some famous tomboy fashion-style outfits:
Oversized t-shirts or button-up shirts paired with skinny jeans or trousers and sneakers
Denim jackets or leather jackets with a plain t-shirt ripped jeans, and boots
Jogger pants or cargo pants with a tank top and a hoodie or a denim jacket
Baseball caps, beanies, or snapback hats paired with casual outfits
Plaid shirts were worn over a white t-shirt, jeans, boots, or sneakers.
Blazers or suit jackets with dress pants or jeans paired with oxfords or loafers
Hoodies or sweatshirts with sweatpants or jeans paired with sneakers or combat boots
Graphic tees, bomber jackets, and distressed jeans with sneakers or slip-on shoes
Tomboy fashion is all about wearing comfortable and functional clothing that feels and looks good. Don't be afraid to mix and match different styles and experiment to find the look that best suits you.
Tomboy Fashion Makeups
The key to achieving a tomboy look with makeup is to keep it minimalistic. Being a tomboy doesn't preclude you from wearing makeup, but you'll probably feel more at ease when your face is fresh and clean.
However, you may still want to use concealer to cover up any blemishes that appear, or you may want to wear lip balm if your lips become dry. Less is more when it comes to tomboy makeup; try going for products such as tinted moisturizer or BB/CC cream instead of heavy foundation.
When applying eye makeup, opt for soft browns and taupes instead of bright pinks or blues – these will bring out the natural shape of your eyes without looking too dramatic. For lips, pick sheer lipsticks that provide light color with just enough coverage for definition.
Tomboy Fashion Hairstyles
For many years, women's boyish haircuts have been developing and evolving. Androgynous haircuts are a popular style that emphasizes your personality and character.
If you're looking for the best tomboy haircut for your appearance, remember that the best hairstyle is one you choose based on your face shape, hair texture, and personal preferences.
With so many hairstyles to choose from, it can be daunting to find the one that works best for you.
Tomboy Fashion Accessories
Accessories are vital to any tomboy look, as they can help define your look and make a statement.
Baseball caps are typically the best way to complete your tomboy look. They show off your favorite team and are highly functional, keeping the sun, rain, dirt, and hair out of your eyes. You can also wear other hats, such as fedoras or beanies.
It's best to avoid jewelry altogether, especially if you participate in sports. Wear studs or tiny hoops instead of dangly earrings if your ears are pierced (generally associated with a girlier look.)
Choose a simple object for necklaces, such as a shell or a coin threaded on a leather string. These can be tucked under shirts and are pretty unisex when running around.
Avoid wearing sparkly bracelets if you enjoy wearing them. Instead, opt for leather or plastic bands at novelty stores such as Hot Topic.