When it comes to 80s fashion, the phrase "big and bright" comes to my mind. Big hair, shoulder pads, massive and dramatic earrings, acid-wash jeans, and eye-straining fabric colors and patterns dominated the decade.
In the 1980s, fashion was all about materialistic values and showing money. Appropriate clothing required spending extra money on designer labels and sportswear with a brand emblem.
Although teens played a significant role, fashion was not solely determined by them for the first time. Tommy Hilfiger and other baby boomers were maturing and getting more prosperous, and they firmly established themselves among the posh fashion influencers.
Whether you want to capture some iconic looks or have fun with it, this article will look at everything you need to know about 80's fashion.
Overview of 80s Fashion Trends
The professional businesswoman, the archetype of financial success, wore suits with colossal shoulder pads that tapered to thin short skirts. Women's claims in the mid-decade featured vibrant, jewel tones often coupled in unique color combinations, while women's suits in the 1980s featured all-black ensembles.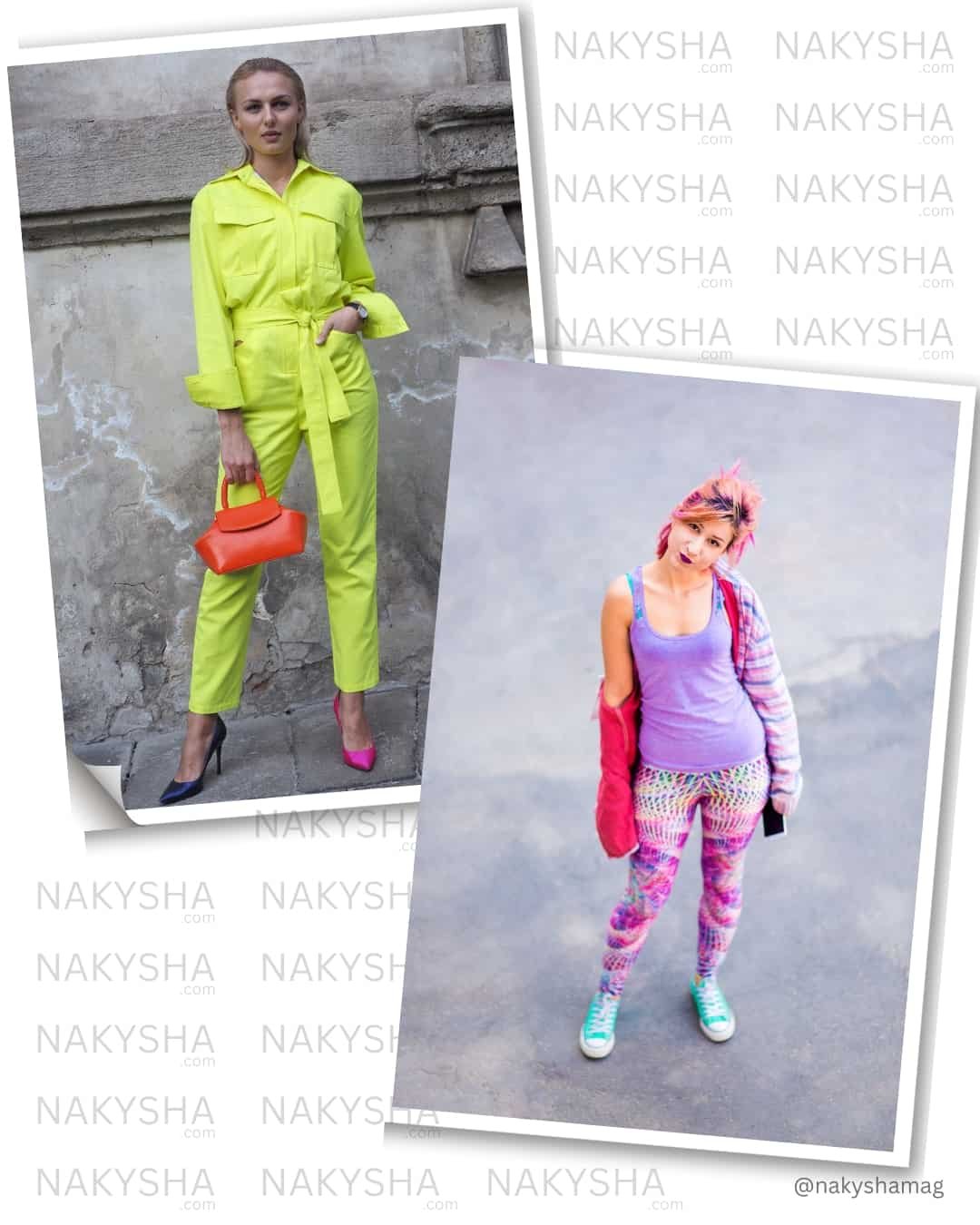 Tunic tops with bold prints, short, slouchy boots, and tight, stretchy stirrup leggings. Parachute and harem trousers, on the other hand, had tight waistbands and big, billowing legs with elastic or banded cuffs that were trapped at the ankle.
With sequins and spangles adorning skirts and gowns, evening wear boosted luxury femininity. The pouf dress was snug at the top but sagged at the hips. Short versions of a 1950s hourglass form were available in mini crinolines.
What are the Popular Types of 80s Fashion Styles?
The female silhouette in the 1980s was slim, with broad shoulders (hello, shoulder pads!) and a cinched waist. Dresses and sweaters were worn off-the-shoulder in the 1980s, and skirts were either tiny or hemmed at the knee.
High-heeled pumps and sports shoes were among the footwear options; even sportswear came with many accessories.
Animal Print Trends in the 80s
Wearing natural animal skin was frowned upon by the 1980s, but over-the-top animal patterns were everywhere. Whatever animal you can think of will likely be portrayed in textiles from the 1980s. Bold leopard, zebra, snake, and even giraffe skin motifs were all the rage on everything from leggings to purses and sunglasses.
Distressed Jeans in the 80s
Grunge culture was born as a result of hard rock and heavy metal bands like Nirvana, Sonic Youth, and the Pixies, and women's fashion of the 1980s included distressed and shredded trousers.
You could always use a box cutter to create a few cuts across the knees and other strategic spots if you didn't buy designer-label distressed jeans from a famous name like Guess or Levi.
It was also fashionable to 'peg' the cuffs of your trousers, which meant rolling them over tightly to show off your high-top sneakers.
High-cut Swimsuits in the 80s
Bikinis were also popular in the 1980s, but a classic 80s swimsuit was a high-cut one-piece swimsuit like the ones worn by the Baywatch babes.
Jelly Shoes in the 80s
At a shoe convention in Chicago in 1983, a buyer from Bloomingdales in New York saw jelly shoes and bought them for the shop network. Despite being made of plastic, the low-cost shoes were incredibly comfortable.
The jelly shoe craze spread so that even great 80s fashion designers like Jean-Paul Gaultier added them to their collections.
Logo Everything in the 80s
Wearing clothing with the designer's logo or displaying a brand was one of the best ways to flaunt riches and elegance in the 1980s. In the 1980s, clothes featured everything from Disney to Harley Davidson and Coca-Cola, and labels like Nike, Gucci, Levi, Lacoste, and Tommy Hilfiger became household names.
Neon Everything in the 80s
It was a big part of 80's fashion to wear clothes in bright neon colors. One in three Americans owned something in this bright and flashy color.
Why did people like neon so much? Neon was a big part of movies and music concerts because it was so visible.
Young people embraced the trend and wore bright yellow, green, pink, and blue colors because the makers of fluorescent colors made them seem young and optimistic.
Oversized Sweaters in the 80s
Oversized sweaters worn over a tank top worn off one shoulder became famous thanks to the movie Flashdance. Sweaters were constructed of velour or other rich textiles, and colors were muted toward the end of the 1980s.
Ruffles in the 80s
According to 80's fashion, puff-sleeved blouses and skirts with ruffles at the neck were a must-have in any woman's wardrobe.
Princess Diana's feminine style could be paired with everything from a power suit to tight jeans for a night out on the town.
Sheer Tights in the 80s
Sheer tights were a mainstay in every woman's wardrobe throughout the 1980s, with short skirts revealing many legs.
Streetwear in the 80s
In streetwear, the grandeur of celebrities' 80s fashion ensembles was toned down, yet all aspects were present. Velour, spandex, and Lycra were undeniably popular materials in the 1980s, with soft cotton and natural silk also popular.
Printed t-shirts, velvet tracksuits, and baggy harem trousers or leggings were worn alongside sharply fitted military-style suits and coats with padded shoulders.
One may believe that with such disparate trends, 80s fashion lacks cohesion, but the decade's style expression is unified by its desire to be bright, glittery, and bold.
Ordinary people wore clothing in vibrant colors and patterns with slogans emblazoned on them. Moreover, every outfit was complemented with watches, sneakers, belts, and jewelry that will forever be associated with the 1980s but which continued to make a reappearance in subsequent decades.
The Key Features of 80s Women's Fashion?
The 80s were a decade of bold fashion choices and unique styles. Here are some key features of 80s women's fashion: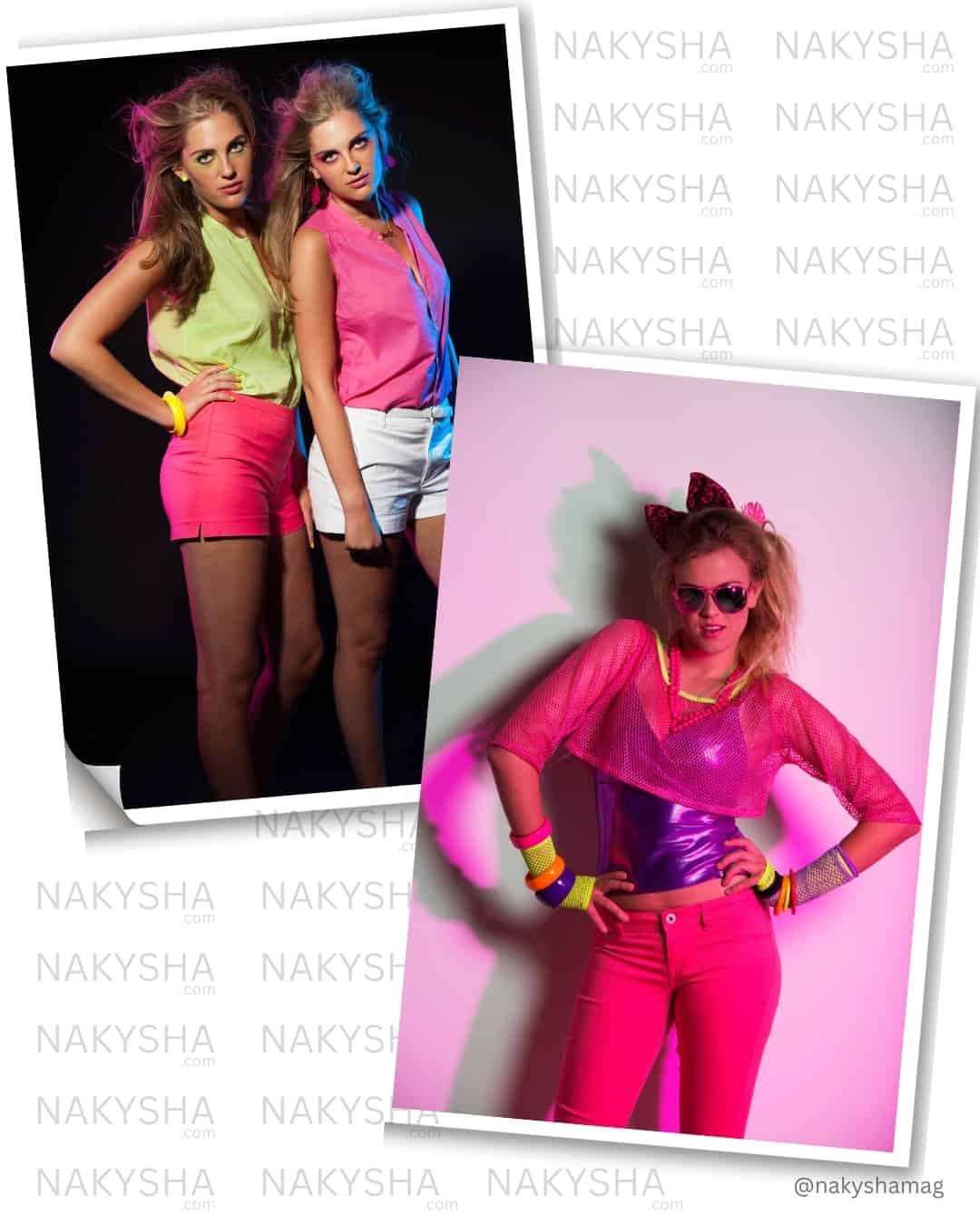 Bold Colors: Bright, neon colors were trendy in the 80s. From hot pink to electric blue, 80s fashion was about making a statement.
Power Dressing: Women in the 80s embraced power dressing, which meant wearing tailored suits with padded shoulders, often in bold colors or prints. This style was meant to convey a sense of confidence and authority in the workplace.
Oversized Clothing: Oversized clothing was also popular in the 80s, from baggy sweatshirts to loose-fitting blouses. This trend was often paired with leggings or tight-fitting pants to balance out the volume.
Leg Warmers: Leg warmers were a must-have accessory in the 80s, worn with everything from leggings to miniskirts. They were often bright and colorful, adding color to any outfit.
Acid Wash: Acid wash denim was a popular trend in the 80s, featuring jeans, jackets, and skirts with a marbled, faded look. This style was often paired with oversized t-shirts or crop tops.
Big Hair: Women in the 80s often wore their hair extensively and teased, with lots of volume and hairspray. Popular hairstyles included the perm, the mullet, and the crimped look.
Accessories: Accessories were essential in 80s fashion, with statement jewelry, big belts, and bold sunglasses completing any look.
80s women's fashion was about making a statement and expressing oneself through bold colors, oversized silhouettes, and unique accessories.
The Inspirations of Fashion Trends in the 80s
The 80s was a decade of significant cultural and political changes, which influenced the era's fashion trends. Here are some of the key inspirations of fashion trends in the 80s:
Pop Culture: Pop culture played a significant role in shaping 80s fashion. From music icons like Madonna and Michael Jackson to movies like "Flashdance" and "Top Gun," popular culture influenced the fashion choices of many.
The Fitness Craze: The 80s saw the rise of the fitness craze, with aerobics and workout clothes becoming major fashion trends. Brightly colored leotards, leggings, and leg warmers were worn in and out of the gym.
Women's Empowerment: The feminist movement of the 70s continued to influence fashion in the 80s, with power dressing becoming a popular trend. Women embraced bold, structured looks with padded shoulders and suits that conveyed strength and authority in the workplace.
Technology: Introducing new technology like MTV and home computers influenced fashion trends in the 80s. Music videos and computer graphics inspired bright looks with graphic prints and neon colors.
Youth Culture: The 80s was also a decade of youth culture, with younger generations embracing punk, new wave, and hip-hop music. These subcultures influenced fashion trends like ripped jeans, leather jackets, and graphic t-shirts.
The inspirations of fashion trends in the 80s were diverse and reflected the era's cultural, political, and technological changes.
Famous Fashion Designers in the 80s
The 80s were a decade of creativity and experimentation in the fashion industry, with many influential designers making their mark. Here are some of the most famous fashion designers of the 80s:
Giorgio Armani: Giorgio Armani was a prominent designer in the 80s, known for his minimalist, tailored suits and jackets. His designs were popular among men and women and popularized the power-dressing trend.
Calvin Klein: Calvin Klein was another influential designer in the 80s, known for his clean, simple designs that emphasized natural fabrics and neutral colors. His underwear and jeans campaigns became iconic advertisements of the era.
Thierry Mugler: Thierry Mugler was known for his futuristic, avant-garde designs in the 80s. His compositions often featured solid and structured shoulders and exaggerated silhouettes.
Ralph Lauren: Ralph Lauren was a famous designer in the 80s, known for his preppy, classic designs that emphasized clean lines and traditional fabrics like tweed and plaid.
Yves Saint Laurent: Yves Saint Laurent was a legendary designer in the fashion industry, and his influence continued into the 80s. His designs often featured bold, colorful prints and luxurious fabrics.
Vivienne Westwood: Vivienne Westwood was a punk-inspired designer who significantly impacted the fashion industry in the 80s. Her edgy and unconventional designs featured distressed fabrics, asymmetrical cuts, and bold prints.
These designers helped shape the fashion trends of the 80s, and their legacy continues to inspire designers today.
How to Incorporate 80s Style into Modern Fashion?
The 80s style has returned recently and can be easily incorporated into modern fashion. Here are some tips on incorporating 80s style into your everyday wardrobe.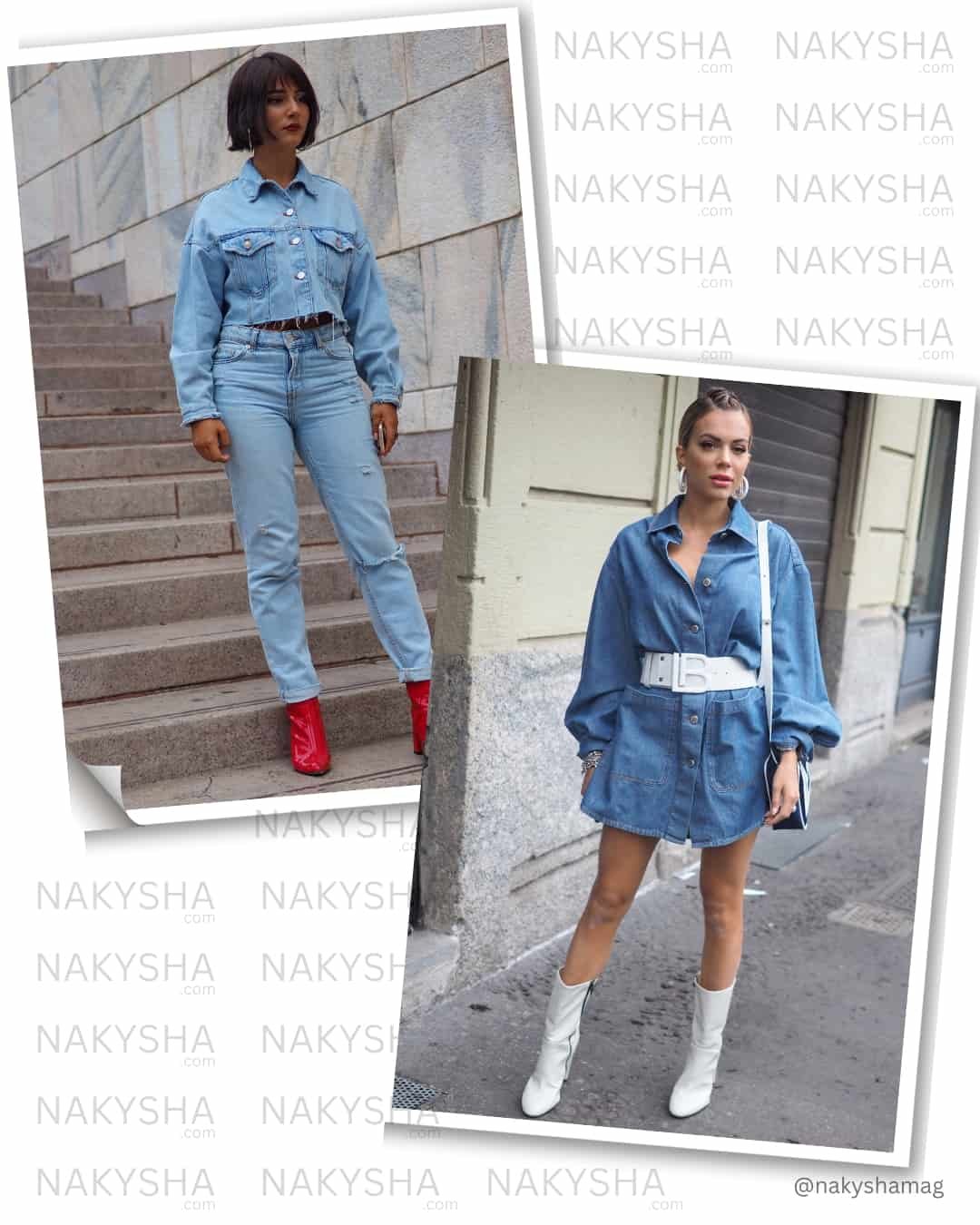 Denim Jackets
Women's denim jackets became fashionable in the 1970s, but it was the 1980s that gave birth to the traditional short-waisted denim jacket. The 80's stone-washed denim jacket has become unbearable as part of a classic American look when worn with tight trousers and combined with a t-shirt or ruffled top.
Leggings and Stirrup-pants
Leggings started to replace fitted slacks for women in the early 1980s, thanks to Olivia Newton-skin-tight John's black leggings in the 1978 movie Grease. Women of various ages were seen wearing leggings with a comfortable oversize sweater or giant t-shirt near the end of the 1980s, when try stirrup pants became trendy.
Legwarmers
Jane Fonda and the stars of Flashdance weren't the only people who wore leg warmers in the 1980s. Leg warmers were a fashion statement for every woman, and leg warmers were worn with everything from sports clothes to skinny jeans to leggings and oversized sweaters.
Jeans
Wear mom jeans with a high waist and wide legs to look good. It didn't matter if your jeans were skinny or a little loose. During the 1980s, stone-washed and acid-washed denim fabric was the norm.
Mini-Skirts
If you wanted to look cool like the girls in Teen Witch, you couldn't wear anything longer than an 80s miniskirt made of denim or Madonna-style layers of net and lace. Women of all ages kept their skirts short.
Platform Boots
You could wear platform boots and Doc Martens with anything, from a mini skirt to jeans. This was the footwear of the cool kids back in the 1980s.
Tights
Every fashionista in the 1980s owned a pair of neon or cut-out tights. It's one of the most iconic 80s outfits, worn with a miniskirt and denim jacket, and it's so unpleasant that we're hoping it won't come back.
T-shirts
When Katharine Hamnett started making political slogans on T-shirts in the early 1980s, she helped groups make their voices heard. Soon, big companies like Nike and Adidas realized that having their logos on T-shirts could be an excellent way to get their name out.
With a logo or slogan on it, with printed letters, or in a bright or pastel color, you can wear your 80s-style t-shirt in any way you want. With jeans or leggings, a soft shirt was always a good choice.
Tips for Blending 80s Fashion Elements into Modern Outfits
Blending 80s fashion elements into modern outfits can be a fun way to add a bit of retro flair to your style. Here are some tips for incorporating 80s fashion into your everyday outfits:
Choose statement pieces: The 80s were all about bold and vibrant statement pieces. Think oversized blazers, neon colors, bold prints, and graphic tees. Choose one statement piece to build your outfit, and keep the rest of your look simple.
Mix and match textures: The 80s were all about mixing and matching different textures. Pair a leather jacket with a sequin skirt or a denim jacket with a satin blouse. Don't be afraid to experiment with different textures to create a unique and eye-catching look.
Accessorize with bold jewelry: Statement jewelry was a big part of 80s fashion. Chunky bracelets, oversized earrings, and bold necklaces were all the rage. Add some 80s-inspired jewelry to your modern outfit to add a touch of retro glam.
Play with proportions: The 80s were known for their exaggerated proportions. Experiment with oversized blazers, baggy pants, and voluminous sleeves. Balance the proportions with fitted pieces to create a modern twist on the 80s trend.
Mix vintage and modern pieces: Incorporating vintage 80s elements into your everyday wardrobe is a great way to add authentic 80s style to your outfits. Pair a vintage graphic tee with stylish jeans, or style a vintage blazer with a modern dress. Mixing vintage and contemporary pieces is a great way to create a unique and personalized look.
80s Hairstyles
Women permed, teased, and coiffed their hair in the 1980s to make it as big as possible. Massive, curly, and heavily styled hairstyles were popular. Hairstyles from the 1960s and 1970s came back with tweaks, and fads like the rattail arose and spread quickly.
Women's hair had grown large by the middle of the decade. Massive waves, curls, and volume were the favored style. Perms pushed out straight hair. Women used hair clips to keep their hairstyles in check. For exercise or physical exertion, sweatbands were worn horizontally over the brow.
Looking back at photos from the 1980s, it appears like the women were competing to see who could have the most hair. Bangs were trendy at the time, and they were typically several inches above the top of the head. This war against gravity needs a great deal of patience as well as a large number of styling solutions. Women's hairstyles include the following:
Long, wavy hair with huge bangs
Hair that has been crimped
Clips made of bananas
Ponytails on the sides
Hair Styles in 80s Fashion
The 80s were known for their bold and unique hairstyles. Here are some of the most popular hairstyles from 80s fashion:
Big hair: Big hair was all the rage in the 80s. Women would tease their hair to create volume and use hairspray to keep it in place. Popular styles included the perm, the mullet, and the feathered look.
Crimped hair: Crimped hair was also a popular style in the 80s. This involved using a crimping iron to create small, wavy ridges in the hair. Crimped hair was often worn in a half-up, half-down style.
Side ponytail: The side ponytail was a popular hairstyle in the 80s, often worn with scrunchies or colorful hair accessories.
Spiky hair: Spiky hair was famous for both men and women in the 80s. This involved using gel or mousse to create spiky, textured hair.
Permed bangs: Many women in the 80s had permed bangs, which involved perming only the front section of the hair to create a curly, voluminous fringe.
The undercut: The undercut was a popular hairstyle for men in the 80s. This involved shaving the sides and back of the head while leaving the top section longer and styled in various ways.
Makeups for 80s Style
Makeup was unusually heavy, aggressive, and colorful in the 1980s. With electrifying pink and blue makeup, the focus was on the eyes, and colored mascara was required for thick, dark lashes. Everyone's cheeks were flushed and accentuated like Cindy Lauper's, and lipstick was pale.
The foundation was best worn a few shades lighter than the natural skin tone and smeared thickly on the cheeks, with a bright streak of blush down the cheekbones to highlight them to the utmost extent possible in the 1980s. Dark lip liner was used on the lips, followed by vibrant pink, orange, and red lipstick. Very pale lipstick was popular in the 1980s for a period, but vivid colors replaced it by the end of the decade.
The eyes were the focal point of an 80s face. Peacock-colored eyeshadow was applied to the brows, then heavy eyeliner and loads of mascara were applied. A smudgy style was fashionable, and many people used multiple eyeliner colors and mascara to create a layered look.
Accessorizing for 80s Style
In the 1980s, fashion was colorful and bold, but the accessories gave the decade its distinct look. A massive statement necklace, dangling earrings down to your shoulders, and a jumble of bracelets was required for any attire.
More luxurious forms dominated, with dainty studs and drop earrings taking a backseat. A large tote bag and sunglasses were essential for walking down the street, and any physical effort necessitated the usage of a sweatband and a boombox to complete the 80s image.
Fanny Packs
Fanny packs first gained popularity among visitors in the 1980s, then made their way into the fashion world before becoming valuable for everyone, from runners and bikers to parents who need their hands free to handle their children.
They are still significant enough for designers like Louis Vuitton to include them in their collections, even though they are not as popular as in the 1980s.
Headbands
Starting with the fitness movement, headbands were worn by everyone in the 1980s, from park runners to Karate Kid and rock musicians like Bruce Springsteen and Olivia Newton-John.
During the 1980s, the terry-cloth headband fashion trend saw functional sports equipment become a fashion ornament in brilliant neon hues. Everyone who was hip arranged their hair around a headband.
Tote Bags
Tote bags were a popular fashion accessory in the 1980s, and no outfit was complete without one. Companies like LL Bean had been selling them for years, but in 1980, New York's Strand bookshop jumped on the trend and began advertising their version of the bag.
In the 1980s, companies like Esprit created distinctive tote bags, which have since become a classic fashion item, selling in the millions yearly.
Women's Belts
Wide belts with elegant buckles worn at the waist or on the hips were fashionable in the 1980s. Elastic straps were also used to keep bulky sweaters and shirts in place.
Jewelry for 80s Style
Jewelry was huge and striking in the 1980s. Women of all ages donned massive earrings, gigantic beaded necklaces, stacks of bracelets, and massive brooches to go with their edgy leather jackets. People liked costume jewelry coated with rhinestones or brilliant clear or pink gemstones, while the wealthy smothered themselves in gold and luxurious jewels.
In the 1980s, jewelry was more than a fashion accessory; it was a way of expressing oneself. Jelly bracelets, woven friendship bracelets, plastic watches, and beaded necklaces were popular among teenagers. On stage, Boy George and Michael Jackson wore huge brooches, and rappers used gold chains and flashy gold rings, but for the most part, males in the 1980s didn't wear flashy jewelry.
Earrings
Earring in the 1980s was big and bold. For any woman in the 1980s, oversized hoops were a must-have accessory. Because pierced earrings were typically too heavy to wear, clip-on earrings became popular. Gold disc earrings were quite popular, and they went well with the enormous gold buttons that adorned jackets and blazers. It was all the rage to wear fake pearls and jewels.
Necklaces
Necklaces came in a variety of styles, from beaded to massive pendants. Many chains from the 1980s contained gold, either in the form of actual gold or gold-plated items. Crystal and cut glass were fashionable and went well with other jewelry styles featuring real jewels. Long strands of fake pearls in various colors were worn in bunches or with knots at the ends.
Brooches
In the 1980s, brooches had a comeback in popularity. Pins were as enormous and bold as other jewelry pieces in the 1980s fashion designs when they had previously been seen as a little out-of-style.
Rings
Cocktail rings and other costume jewelry were popular during the 1980s. These were worn both during the day and night, contributing to the decade's general sense of confidence and affluence.
Bracelets
Like other 80s jewelry styles, bracelets make a large, strong statement. Wearing a lot of tiny bangles was trendy, as well as wearing large bangle bracelets. For the younger generation, plastic, neon-hued jelly bracelets were a must-have, and they wore as many as they could comfortably put on their arms. Also popular were woven friendship bracelets, charm bracelets, and cuffs.
Style Icons of the 1980s
Princess Diana
People flocked to Lady Diana Spencer after she married Charles, Prince of Wales, in 1981. After the British royal family had faded from prominence in the fashion world, a new royal princess emerged with the stature of a model. Princess Di arrived dressed in Hermes scarves, Liberty prints, and low-heeled shoes as part of a group of young women known as the "Sloane Rangers,"
She wore British designers' attire to public engagements and became a powerful marketing tool for British fashion. She developed a look that blended aspects of the New Romantic club scene with a traditional British country aesthetic. Her compassion, grace, and desire to help others affected young ladies worldwide.
Michael Jackson
Michael Jackson, the King of Pop, gave young men and women an androgynous look. His tight pants with loafers and white shirts showed off his preppy style, while his bright red jacket with oversized zippers showed off the New Wave.
Vivienne Westwood
Vivienne Westwood was a British fashion designer who took inspiration from and influenced Punk, Goth, and New Romantic bands. Vivienne's Pirate collection, which ran from 1981 to 1982, included puffy shirts with high collars and military jackets in the style of the 18th century. Traditional Peruvian patterns inspired her 1982–83 Buffalo Girls collection in brown tones. Her designs gave fashion a theatrical edge, allowing more avant-garde forms to flourish.
Madonna
With her dramatic performance attire in Desperately Seeking Susan, pop diva Madonna affected fashion. Madonna wore undergarments as outerwear with her evident bras and corsets, wearing many ropes of long beads, black lace gloves, and mesh knit tops. Madonna capitalized on her celebrity by licensing her line of apparel and accessories.
John Galliano
In 1984, John Galliano burst onto the scene with the launch of his label. A New Romantic icon, Galliano created theatrical, avant-garde apparel that combined historical elements with the current style. His skirts and dresses with bias cuts have a gentle, flowing beauty. In 1987, he was named British Designer of the Year for his imaginative and dramatic creations, which presented a campy romance.
Top 10 Fashion Trends of 80s
FAQs – 80s Fashion
What shoes were worn in the 80s?
Jordans, sometimes known as color-block sneakers, Doc Martens (chunky boots), Vans Classic slip-on, Adidas Campus, medium-heeled pumps, Mary-Janes, Jellies, and Moccasins were among the most popular shoes in the 1980s.
What clothes were worn in the 80s?
Oxford shirts, polo shirts and turtlenecks, khaki pants, suspenders, striped linen suits, and corduroy were among the most popular clothing items in the 1980s. High-waisted jeans (mom jeans), leg warmers, torn denim, spandex and Lycra, acid wash jeans, statement shoulder business suits (typically with skirts), punk leather items, and leotards were among the hottest fashions for women.
What accessories were popular in the 80s?
Accessories were a crucial part of 80s fashion. Among the most popular accessories are scrunchies, leg warmers, fingerless gloves, plastic bangles, giant wacky earrings in neon colors, mesh embellishments, fanny packs, and pearl necklaces.
What's the best way to dress like an 80s girl?
Women can wear oversized tops or blouses with shoulder pads with a mini-skirt or stirrup leggings to look like they're from the 1980s. Wear a "Members Only" jacket with acid-wash denim or parachute-style pants for males. Choose loud colors, oversized accessories like earrings, and massive hair for any gender.
Did Soffe Shorts introduce in the 80s?
Yes, the legendary Soffe short, designed in the early 1980s, is just as important today as it was then.