I'm a big fan of the 1970s style. Whether you realize it or not, the era produced a slew of trends that are still relevant today. Consider our current craze for colorful over-the-knee boots, folk-inspired printed dresses, velvet, corduroy, boho blouses, midi skirts, etc. The '70s take over the runways every couple of seasons, but if you look closely, there's always a touch of it on the streets.
Going back in time can assist when you want to change your look and renew your style. Incorporating inspiration from a specific decade or period into your modern outfit can give it a unique and intriguing appeal. Channeling a '70s look, for example, can give you a fantastic retro vibe that's on-trend. With our guide to 70s fashion for women, getting the style is easier than ever.
Overview of 70s Fashion Trends
Fashion in the 1970s was all about self-expression and uniqueness. As a result, many established fashion conventions were disregarded, and distinctive and androgynous looks ruled supreme. Hippie, peacock revolution, glam rock, and disco were all popular trends of the decade. Women could readily show which group they belonged to or flip between them, all thanks to an abundance of inexpensive apparel on the market.
Consider the legendary designer names of Yves Saint Laurent, Karl Lagerfeld, and Diane von Furstenberg indelibly etched into history during this decade. It was also when trend-driven, mass-market fashion was more widely available. Cool, connected girls could switch up their looks more efficiently, which likely led to the 1001 aesthetics and critical pieces that came out of this electric time.
What are the Popular Types of 70s Fashion Styles?
There were numerous major fashion groups for women around the start of the 1970s. However, many of the styles were similar. People wore a lot of bright and daring clothing in the 1970s.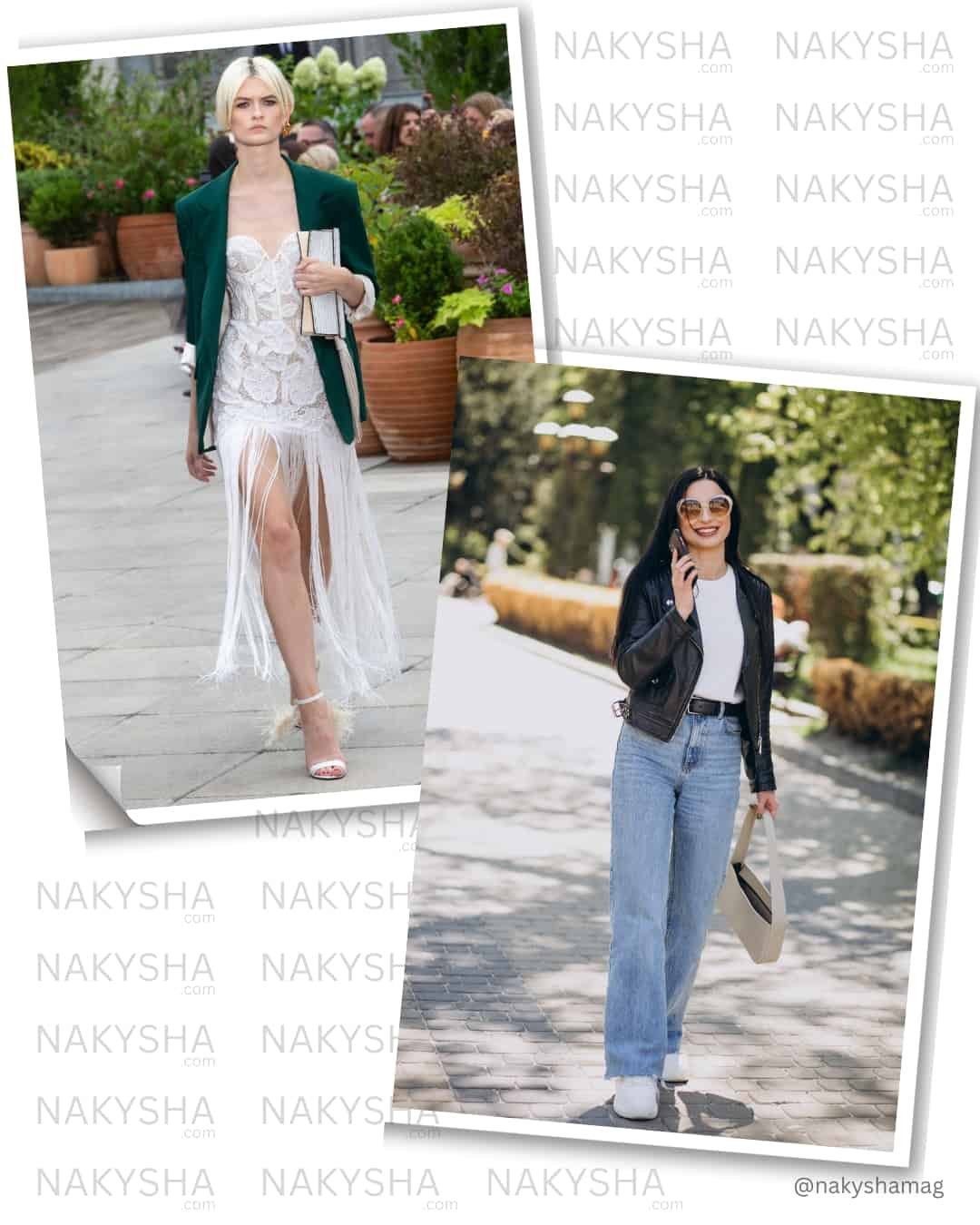 While the decade's fashions were diverse, most included vibrant colors and patterns, a form that was tight at the top and loose at the bottom, and intriguing textures like satin, suede, and corduroy.
The decade's essential things were Bell-bottom and wide-leg slacks, platform shoes, vests, long-collared shirts, tight tees, turtleneck sweaters, and leisure suits.
The Key Features of 70s Women's Fashion?
The 1970s were a time of significant change in women's fashion, with a shift towards more relaxed and expressive clothing that reflected the political and social movements of the time.
Some of the critical features of 70s women's fashion include:
Bold prints and patterns: From psychedelic swirls to paisley prints, bold patterns were all the rage in the 70s. This trend was particularly evident in maxi dresses, which often featured colorful, eye-catching images.
Platform shoes: Platform shoes were hugely popular in the 70s and were worn by women of all ages. These shoes had thick soles that could be several inches high, giving women added height and making a statement.
Flared pants: Flared pants, also known as bell bottoms, were a staple of 70s fashion. These pants were tight around the hips and thighs and flared out dramatically from the knee down. They were often worn with platform shoes for maximum effect.
Bohemian style: The 70s saw a rise in the popularity of bohemian fashion, which was characterized by loose, flowing clothing, natural fabrics, and a laid-back vibe. The hippie movement of the 60s heavily influenced this style.
Disco style: The disco era of the late 70s brought a new type of clothing that was all about glitter, sequins, and flashy materials. Disco dresses were often short and tight, with plunging necklines and bold metallic colors.
Denim: Denim was a popular fabric in the 70s and was often used to make flared pants, denim jackets, and even jumpsuits. The denim-on-denim look was also popular during this time.
Accessories: In the 70s, accessories were as necessary as clothing when making a fashion statement. Women wore large, floppy hats, oversized sunglasses, and long, dangling earrings to complete their outfits.
70s women's fashion was all about freedom of expression and individuality. Women were encouraged to dress in a way that reflected their personalities and beliefs, and the fashion style of the time reflected this spirit of experimentation and self-expression.
The Inspirations of Fashion Trends in 70s
Fashion trends in the 1970s were inspired by a variety of sources, including:
The Hippie Movement: The countercultural movement of the 1960s had a lasting impact on fashion in the 1970s. The hippie style was characterized by flowing, natural fabrics, colorful prints, and loose-fitting clothing. The influence of the hippie movement can be seen in the bohemian style that was popular in the 70s.
Glam Rock: The glam rock movement, with its flamboyant stage costumes and glittery makeup, was another major influence on 70s fashion. David Bowie, Elton John, and other musicians of the era inspired many of the bold, flashy clothing styles that were popular at the time.
Sports: The popularity of sports in the 1970s led to the rise of athleisure wear. Tracksuits, sneakers, and other sportswear-inspired clothing became fashionable for everyday wear.
The Disco Era: The disco era of the late 70s brought with it a new style of clothing that was all about glitz and glamour. Sequins, metallic fabrics, and bold colors were all popular during this time.
Global Influences: 70s fashion was also influenced by global fashion trends. African-inspired prints and designs, for example, became popular in the 70s, as did Indian-inspired clothing like tunics and saris.
Popular Fashion Designers in 70s
The 1970s was a decade of bold and eclectic fashion, with a number of influential designers making their mark on the industry. Some of the most popular fashion designers of the 70s include:
Yves Saint Laurent – Known for his chic and sophisticated designs, Saint Laurent was one of the most influential designers of the era.
Diane von Furstenberg – Famous for her iconic wrap dress, von Furstenberg was a trailblazer in women's fashion.
Halston – Halston was a master of minimalist design, and his sleek, flowing dresses were a staple of the disco era.
Vivienne Westwood – With her punk-inspired designs, Westwood was a key figure in the British fashion scene of the 70s.
Giorgio Armani – Armani's sleek, tailored suits revolutionized men's fashion in the 70s and helped to define the power dressing trend.
Bill Blass – Blass was known for his elegant and timeless designs, which were favored by high-society women and celebrities.
Calvin Klein – Klein's minimalist designs were emblematic of the 70s, and he became a major force in the fashion industry during the decade.
Mary Quant – Quant was a pioneer of the mod style, and her playful and colorful designs captured the spirit of the 70s.
Ralph Lauren – Lauren's preppy, all-American style was a hit in the 70s, and his designs helped to define the era's preppy trend.
Karl Lagerfeld – Lagerfeld's avant-garde designs pushed the boundaries of fashion in the 70s, and he was one of the most influential designers of the decade.
How to Incorporate 70s Style into Modern Fashion?
Make sure to create mix-and-match looks when putting together 70s outfits or a series of disco outfits to get the most mileage out of what you wear: it's crucial!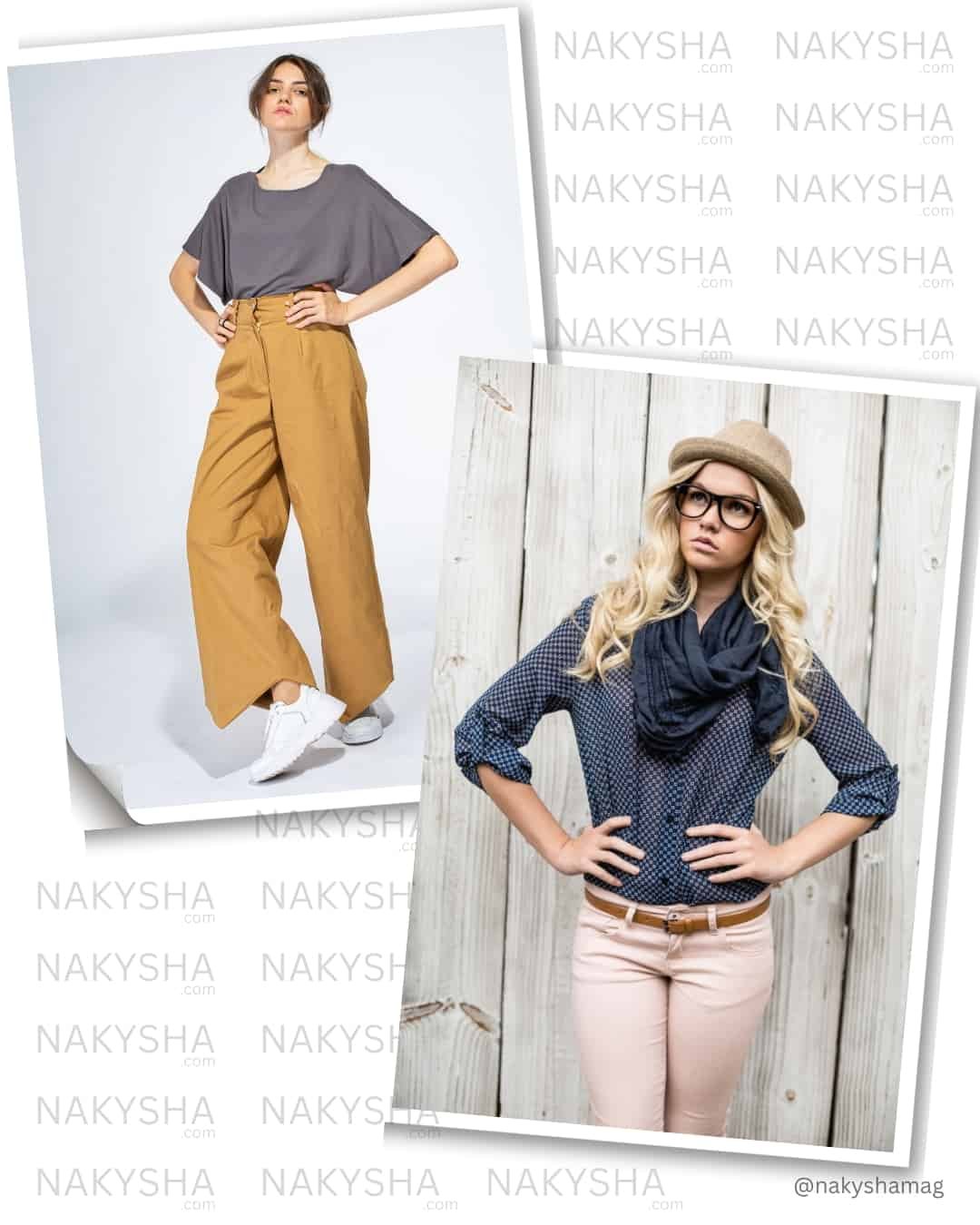 Rather than buying an entire outfit, attempt to piece together a style that is both unique and original. When you follow these simple recommendations, it's not as difficult as it appears.
Use Bright Colours Style in the 70s
Color was significant in 1970s fashion. Bright colors made even simple fashions from the decade look strong. Yellow, orange, blue, pink, red, purple, and green were among the vibrant colors in every fashion group.
Use Disco Style in the 70s
Women's disco fashion in the 1970s was fascinating partly because there was so much that was acceptable – that is to say, pretty much everything – and so much from which to choose. Under the disco balls, maxi outfits were also seen whirling. Women who went dancing regularly had a blast trying on a variety of costumes on different occasions.
Use Hippie Styles in the 70s
The hippy style comes to mind when we think of the 1970s. It's easy to see why, given that it was one of the decade's first and most influential trends. Although the trend originated in the late 1960s, it reached its pinnacle in the early 1970s, when bell bottoms, tie-dye tops, headbands, embroidered folk prints, and flowing scarves became ubiquitous. Try combining one actual hippie-era piece or a couple of hippie-inspired modern designs into your ensemble today to rock the style.
Use Peacock Revolution Style in the 70s
Young men dressing in increasingly unusual ways in the 1970s, thanks to well-paid jobs and flourishing enterprises. The peacock revolution was named for these distinctive costumes, often containing brilliant colors.
Peacock styles typically included satin blouses, ruffles, tunics, turtlenecks, Cuban heeled boots, bell bottoms, and braided belts, in addition to their flamboyant use of color. Suits came in a variety of colorful blooms and styles.
Use Dark Denim with Spandex in the 70s
You can wear jeans out on the town if they're your thing. Stretch on super-dark jeans with sewn pockets and rhinestones for a disco vibe. If you want to go all out, wear dark denim with bell bottoms and a high-waisted look. For practical purposes, you may easily match these jeans with a leather or stretch belt, and you won't lose the disco vibe!
Use Funky Platforms and Wedges in the 70s
For a disco gal of any age, heels are a must. If you usually go out dancing with flats or kitten heels, now is the moment to pick up your game. Before pairing your denim and stretch skirts with the tallest heels, practice dancing in them at home. You can discover cork wedges with fabric uppers for a good amount of '70s style or shoes with a high front platform to balance off towering heels in the rear.
Use Patterned Dresses in the 70s
If separates aren't your thing, patterned dresses made of Lycra, Spandex, and Modal blends are a great alternative. If spinning on the dance floor, look for dresses with dipped necklines that wrap around the waist, and wear a bodysuit underneath.
Geometric designs are ideal, but if you add the proper accessories, you may quickly wear one in a complexion-flattering solid. The disco dresser comes in various colors, including bright pink, aqua blue, lime green, and purple.
Use Slinky Skirts in the 70s
When you choose an intriguing new fabric, circle skirts in a wrap-around form or a tie-waist design are ideal. Stretch fabrics are suitable for disco routines, and plenty of Spandex-infused materials with enough weight to twist and turn with the best of them.
You can wear a skirt with a pin holding the flap closed if you're scared your wrap skirt will open up in a spin. Look for one with a disco ball, music note, or wild geometric design in a disco style.
Use Wrap Tops in the 70s
Cross-over tops have a body-hugging style that can emphasize your moves on the dance floor and are lovely to pair with denim and leggings.
Think like a dancer when you're getting ready for the disco and create a movement-friendly, comfy, and figure-friendly attire. You can achieve a similar impression by wearing dance-inspired shrugs and leotards.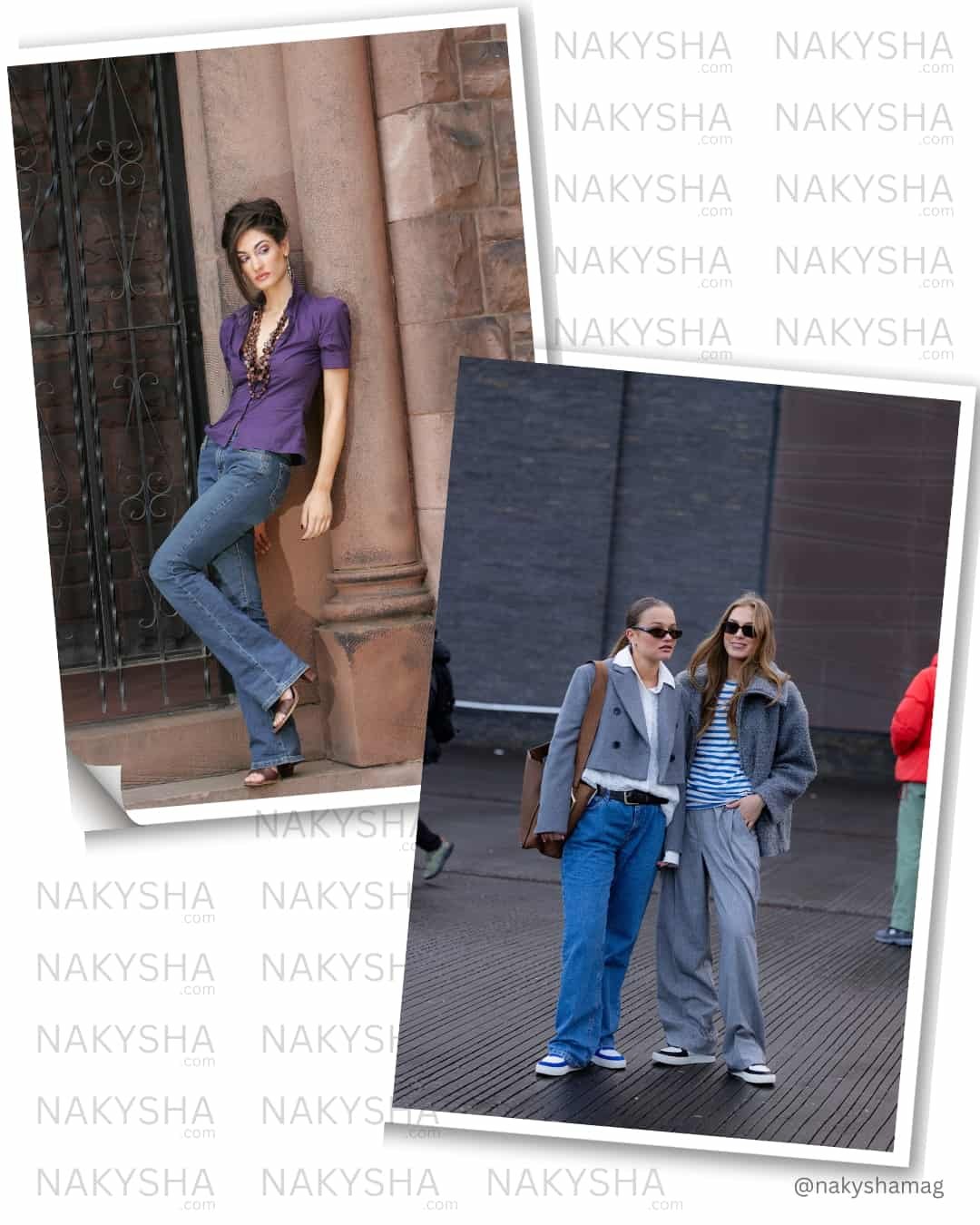 Tips for Blending 70s Fashion Elements into Modern Outfits
Blending 70s fashion elements into modern outfits can be a fun and stylish way to add some retro flair to your wardrobe. Here are some tips to help you achieve a seamless blend:
Start with simple pieces: Begin by incorporating simple 70s-inspired pieces into your wardrobe, such as flared jeans or a bohemian blouse.
Mix and match: Don't be afraid to mix and match 70s-inspired pieces with modern pieces. For example, pair a vintage-inspired floral dress with a leather jacket and ankle boots.
Accessorize: Add some 70s-inspired accessories to your outfit, such as a wide-brimmed hat, fringe bag, or platform shoes.
Play with patterns: The 70s were all about bold prints and patterns, so experiment with prints like paisley, florals, and geometric shapes.
Choose a color palette: Stick to a color palette that is reminiscent of the 70s, such as earthy tones like mustard, rust, and olive green.
Avoid going overboard: While it's fun to embrace the 70s fashion trend, try not to go overboard. Stick to one or two key 70s-inspired pieces per outfit, and balance them out with modern pieces.
Stay true to your personal style: Ultimately, the key to pulling off any fashion trend is to stay true to your personal style. Don't wear something just because it's on trend if it doesn't feel like you.
Hair Styles in 70s Fashion
Some of the most popular features from the 1960s, such as the pompadour, were carried over into the early 1970s hairstyles for women. Long hairstyles were also popular, especially among individuals associated with the hippie movement.
The 70s were known for their iconic hairstyles, from shaggy layers to sleek and straight looks. Here are some tips for achieving 70s-inspired hairstyles:
The Shag: The shag was a popular hairstyle in the 70s, characterized by layers and feathered ends. To achieve this look, ask your stylist to add layers to your hair and feather the ends using a razor. Style with a round brush and blow dryer to create volume and movement.
The Afro: The afro was a symbol of pride and rebellion during the 70s. To achieve this look, start by washing and conditioning your hair. Once your hair is damp, use a wide-tooth comb to gently detangle it. Apply a leave-in conditioner and a curl-defining product, then use a pick to create volume and shape.
Straight and Sleek: Straight and sleek hair was also popular in the 70s. To achieve this look, start by applying a heat protectant to your hair. Use a flat iron to straighten your hair, then apply a smoothing serum or oil for shine.
The Farrah Fawcett: The Farrah Fawcett hairstyle was one of the most iconic looks of the 70s, featuring feathered layers and bouncy curls. To achieve this look, ask your stylist to add layers to your hair and cut in long, face-framing bangs. Style with a large curling iron to create loose, bouncy curls.
The Headscarf: Headscarves were a popular accessory in the 70s, worn to keep hair out of the face and add a pop of color to an outfit. To achieve this look, tie a colorful scarf around your head, leaving your hair loose or in a messy bun or braid.
Makeups for 70s Style
Although disco is no longer popular, disco makeup, introduced in the 70s, isn't! Women can take from 1970s disco culture to create a dramatic face when they go out for a night of clubbing and partying, albeit it may be too much for the office.
Disco makeup isn't for the faint of heart. It's bright and colorful, just like the clothes women wore to nightclubs in the 1970s. Even if you don't wear bell bottoms, sequins, or a lot of polyesters to a standard club these days, you put on extra makeup for a night of dancing.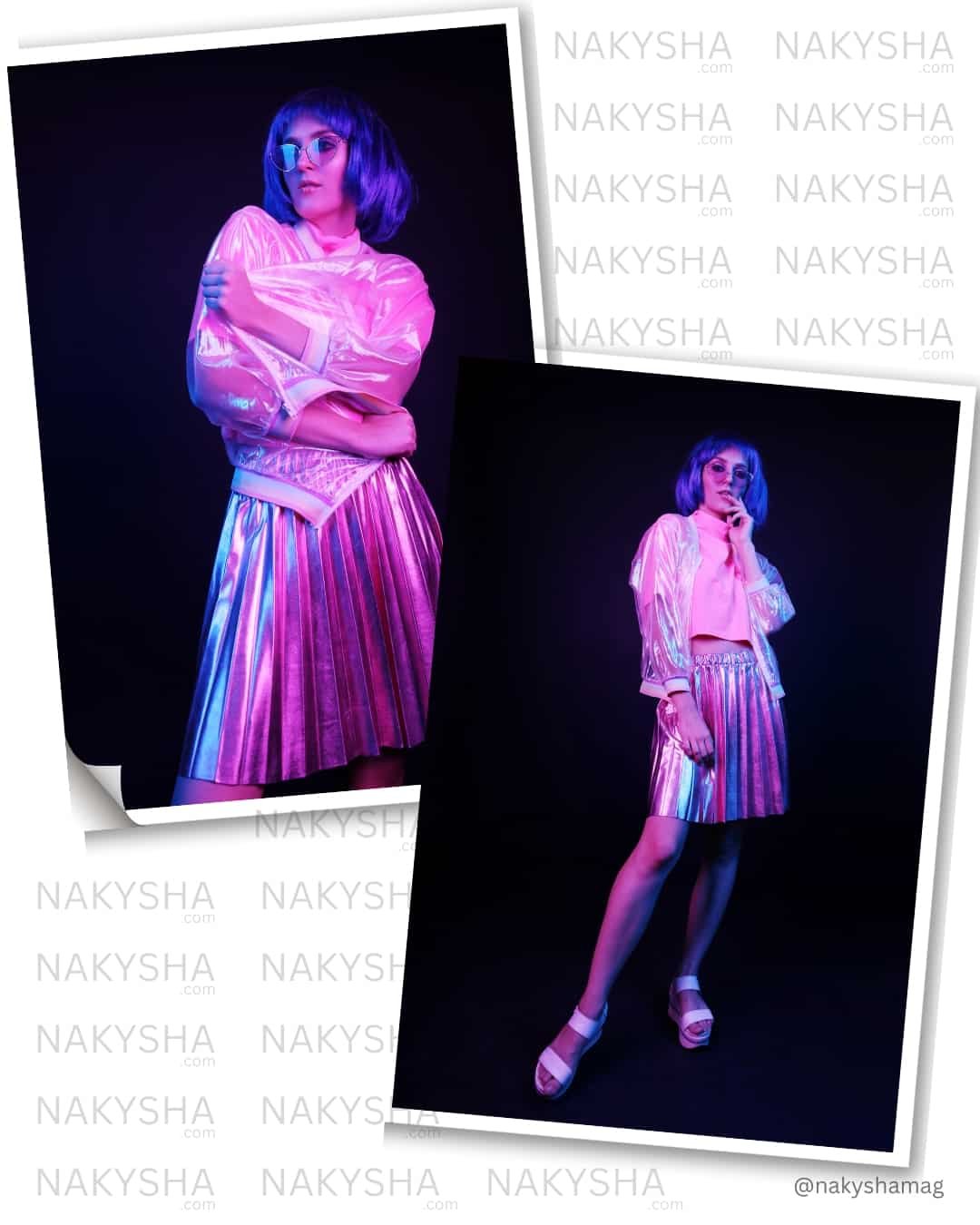 Under club lights, bright colors, and thicker applications look far better than the natural makeup style that works during the daytime. You may want to have these cosmetics on hand if you want to recreate a disco look:
Blue eyeliner
Pink eyeliner
Blush in pink or orange
Lipstick in a light shade
Lipstick with a vibrant hue
Lip gloss that is clear
Mascara in black
Eyelashes that are not real
For inspiration, look at photographs from the 1970s. The length of your eyelashes is one item that may catch your attention. Lashes were long and luxuriant, frequently aided by artificial lashes that women wore for the evening.
Suppose you already have long, lush lashes. In that case, you may not need anything more than a lengthening mascara, but if you want an actual disco appearance, consider wearing artificial lashes to transform your eyes from ordinary to excellent.
Accessorizing for 70s Style
Knee-high boots and platform shoes were popular in the 1970s. Coupled with gaucho trousers or a sizzling micro little skirt, both appear retro. Wear a pair of peace symbol earrings and a matching peace symbol necklace to complete your 70s hippy outfit.
Wearing a beaded choker, also fashionable in the 1970s, is another option to explore. To complete your 70s-inspired outfit, wear a bright scarf around your neck. Don't forget to accessorize with some cool sunglasses!
The 1970s were an outstanding decade that saw so many aesthetic changes in fashion, music, art, beauty, and jewelry over its ten-year span, and as a result, everyone can relate to at least one trend from the decade. These are some of the prominent 1970s jewelry characteristics.
Statement Pieces
The 1970s were all about making a statement with jewelry. Pendants and other pieces were vast and eye-catching, designed to contrast with the flowy, peasant dresses that many young ladies preferred and the boyish streetwear that youths chose. "nobody was afraid to be bold." says one of the Aaron Faber Gallery's owners.
Layering
Women frequently wore multiple chain necklaces on top of one another, which was a popular trend. These pieces were frequently placed on top of turtlenecks or Deep-V necklines to add an unusual glimmer to an outfit.
Natural Materials and Color Palette
Natural materials like wood, stone, shell, and bone were highly fashionable during the Mid-Century Modern era, with turquoise being a superior choice. The colors used in this jewelry, such as burnt orange and avocado green, expressed this increasing closeness to the natural environment.
Various Sources of Inspiration
In the 1970s, ethnic-inspired jewelry was ubiquitous. With the advent of cultural movements such as Black Power, there was a shift toward using traditional themes to express one's cultural identity. These items, designed to mix with mainstream bohemian clothes, gave the jewelry scene a worldwide feel.
Yellow Gold
Yellow gold was the most prevalent metal in the 1970s, and gold hoops, chains, and bangles could be seen everywhere. Of course, the fact that yellow gold tones combined well with natural hues made it a logical choice for people at the time.
Finding 70s Styles Today
Original 70s disco fashions are best found in online vintage shops, which generally divide their goods by decade. This ensures the best look, quality, and simplicity of hunting. A favorite eBay search can also be saved. Knee-length minidresses and hot trousers can be pretty popular and thus pricey, although jumpsuits don't usually elicit the same response.
Conversely, a jumpsuit is a good option if you want a quirky retro style. They can make you appear taller if you're tall, and they can make you appear shorter if you're not. This is especially true if you're wearing platform boots or shoes. The ensemble as a whole is bold.
FAQs – 70s Fashion
Is the 70s style coming back in 2022?
The '70s fashion trends are back, and we've uncovered the pieces that will work in 2022. Fashion from the 1970s is making a comeback. Recently, celebrities and fashion influencers have incorporated a '70s throwback vibe into their clothes. The timing couldn't have been better, given that summer is famed for its vibrant hues and patterns.
What type of clothing was popular in the 1970s?
Bell bottom pants, frayed jeans, midi skirts, maxi dresses, tie-dye, peasant blouses, and shawls were all popular fashions. Chokers, headbands, scarves, and jewelry made of wood, stones, feathers, and beads are some accessories that will help you put your early 1970s Hippie clothes together.
What are 70s dresses called?
Dresses from the 1970s. In the early 1970s, the tiny shift dress, jumper dress, drop waist dress, and tunic dress were still popular dress styles. In the winter, sleeveless jumper dresses with high-knee socks were worn over short or long-sleeve shirts.
What does 70s fashion look like?
That trend featured peasant blouses, tie-dye, bell sleeves, crochet dresses, and bell bottoms. In that decade, celebrities like Jane Birkin and Twiggy inspired their fans to wear shorter hemlines and taller boots, and the short skirt reached its pinnacle.
What do women wear to a 70s party?
Hippies favored loose-fitting garments like tunics and tie-dyed T-shirts. Wear them with platform shoes, sandals, moccasins, or even bare feet to complete the hippy image. To acquire ideas for the disco look, rent the classic film "Saturday Night Fever" The disco floors of the 1970s were dominated by tight polyester outfits.
Is the 70s disco or hippie era?
Is the '70s a disco era or a hippy era? In reality, it's a mix of the two. It was possible to be a hippy, a disco head, or neither in the 1970s.
What were brands popular in the 70s?
Beginning early in the decade, designers like Yves Saint Laurent, Valentino, Halston, Betsey Johnson, Mariuccia Mandelli, and Mary Quant provided high-end versions of this fashion mainstay, with shops like Sears selling cheaper variants.
What were the most popular patterns in the 70s?
Tie-dye, paisley, floral, stripes, and checkered were some of the most fashionable designs in the 1970s.
How do you make a 70's outfit?
Jeans, a white collared shirt, a red sweater or long-sleeved shirt to layer over the white shirt, and a white or beige bucket hat are all you need. Daisy Duke's outfit consists of short denim cut-offs, a button-down shirt knotted up over the navel, and heels or cowboy boots.
What colors were popular in the 70s?
In the 1970s, every color of the rainbow was fashionable. Across the decade and styles, yellow, orange, blue, pink, red, purple, and green were all adopted with equal enthusiasm.
What Jackets did they wear in the 70s?
Leather or suede jackets and fringe hippy vests were trendy in the 1970s and are hot again this year. In the late 1970s, natural earth-tone browns, tans, and greens were stylish. Denim jackets, shearling (sheep) lined coats, faux fur, embroidered velvet, and blanket material were popular this season.
Were halter tops popular in the 70s?
During the late 1960s and early 1970s, the halter top was at the height of its popularity. The halter top was inspired by the sleeveless, high-necked design of some Asian apparel and first appeared as a dramatic neckline on formal gowns in the 1930s.
What was so bad about the 1970s?
Economy. Since the Great Depression, the 1970s were possibly the worst decade for most industrialized countries' economic performance. Despite the absence of the catastrophic economic downturn of the 1930s, economic growth rates were significantly lower than in prior decades.
Was plaid popular in the 1970s?
Plaid was so popular in the 1970s that it was used on everything from clothes to interior design elements. Daisy from The Dukes of Hazard tied hers above the waist and wore it with daring hot trousers, transforming the plaid shirt from a charming, rural look into a more sexualized image.
In the 1970s, who was a fashion icon?
It was a decade bursting with well-dressed women, from Farrah Fawcett's relaxed, almost androgynous elegance and inimitable hair flicks to Studio 54 stalwart Bianca Jagger and legendary supermodel Iman, who dominated just about every runway, including Gianni Versace's, Calvin Klein's, Issey Miyake's, and Donna Karan's.
What was the fashion in 1971?
The inverted pleat skirt was one of the decade's most popular styles. Throughout the 1970s, blouson sleeves were popular, but different cuff styles, depths, and widths kept them fresh season after season. These flared skirt fashion styles from 1971 all have 2-inch cuffs on the bloused sleeves.
What was the famous fashion in 1974?
During 1974, skirts were quite full, and many were cut on a circle pattern or from panels, giving them a circular swing fullness. Even narrow-fitting coats like the yellow coat above featured A-line flair, and very few coats in the 1970s were straight, except reversible wool coats.
What did 1974 girls wear?
Overalls with a screen print bib, flared pants and matching coats and shirts were among the ombre blue coordinates. Another style was a multi-colored patchwork smock blouse with flared sleeves and a flared bottom with white flared slacks.
What were dittos in the 70s?
At least in the 1970s, the self-proclaimed "hottest jean in America" was a denim brand named Dittos. These jeans were made for dance queens and Farrah Fawcett, with flare legs and characteristic saddleback stitching on the seat.
Are bell bottoms from the 1970s?
Bell bottoms came back in the 1970s, and Sonny and Cher helped popularize them in the United States by wearing them on their popular television show. Bell bottoms were less fashionable as the decade progressed, thanks to the development of punk rock in the late 1970s.